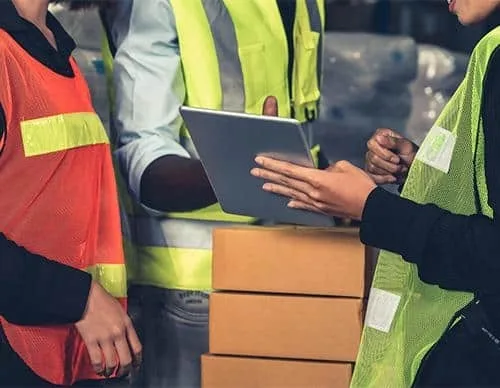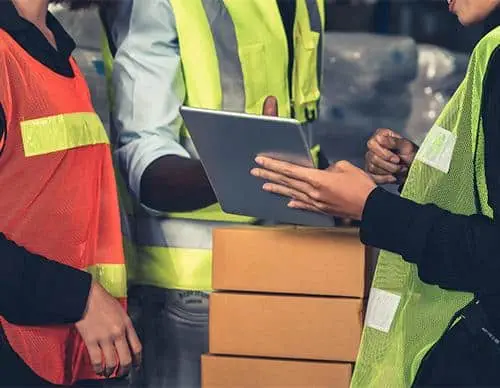 The pandemic has a lasting effect on how consumers shop. From toilet paper, grocery items, and clothes to furniture and gardening supplies, they now turn to online retailers. However, businesses struggle to keep up with the demand, so they need automated material handling solutions to maintain their productivity amidst the shrinking workforce in warehouse logistics and distribution centers. 
So how do you improve your material handling productivity without burning out your employees or causing unsafe working conditions? First things first – You need to realize that productivity goes hand in hand with safety and efficiency. After all, accidents and injuries lead to downtime.
Scroll down below to learn about our list of simple tips to boost your material handling productivity.
Use the correct forklift.
Forklifts come in all shapes and sizes. Also, some are designed for rough terrain like construction sites, while others are only intended for indoor use, specifically on dry and smooth floors. Others, meanwhile, are designed to operate in very narrow aisles, while some models are equipped with engines built for speed and efficiency. 
To boost your productivity and promote a safe work environment, it's important that you use the right type of forklift. 
Perform regular tune-ups for forklifts and other material handling equipment.
Regular forklift servicing and maintenance is crucial to keep your machines running efficiently and safely, which results in high productivity. By contrast, a neglected fleet is prone to frequent breakdowns and predisposes your employers to a higher risk of accidents. 
Neglecting your material handling equipment is also "expensive" since they have a significantly shorter lifespan compared to well-maintained machines. 
Invest in accessories and attachments.
Operators with the right accessories and attachments (e.g., fork tip layers, auto-tilt leveling, and cameras) are more productive than those without these "smart" tools. When employees are adequately trained and equipped, their work output increases, accidents decrease, and job satisfaction improves.
Take note that investing in your people and equipping them with smart tools to make their job more efficient also leads to more loyal employees, a safer work environment, and a lower turnover rate. 
Provide regular safety training. 
Do you want to increase your productivity and at the same time save money and avoid premise liability lawsuits? If your answer is yes, be proactive when it comes to keeping your workplace safe and secure. You can do this by providing your employees with regular training, giving them incentives when they stick to safety rules, and promoting awareness. 
To further promote a safe workplace, make sure you do these tips:
Eliminate safety hazards 

Mark hazardous areas clearly

Vehicle safety and maintenance 

Shelving safety guidelines

Proper clothing 
Always review your facility's layout and design.
Due to the ever-changing business landscape and consumer sentiment, no company is static. That being said, you should always review and optimize your facilities' design and layout. Take note that what worked 10 years ago may not work amidst the new norm. For instance, you may need to replace your storage methods and racking design, update your fleet, and/or resort to smart automation. 
Boost Your Material Handling Productivity In No Time
Investing in smart automation and people is the key to improving your productivity. Of course, your material handling equipment such as your forklifts, stackers, reclaimers, etc., also play a critical role in boosting your output and making your work environment efficient and safe for everyone in the warehouse. 
If you need forklift parts and accessories for your material handling equipment, visit Wholesale Industrial Parts and choose from our extensive list of replacement parts and tires. We also have a team of customer service representatives to help you locate the most difficult-to-find parts. Visit our online shop now or call us at (844) 588-8455.
Check this out >Product Info & Manufacturers
We look forward to hearing from you!