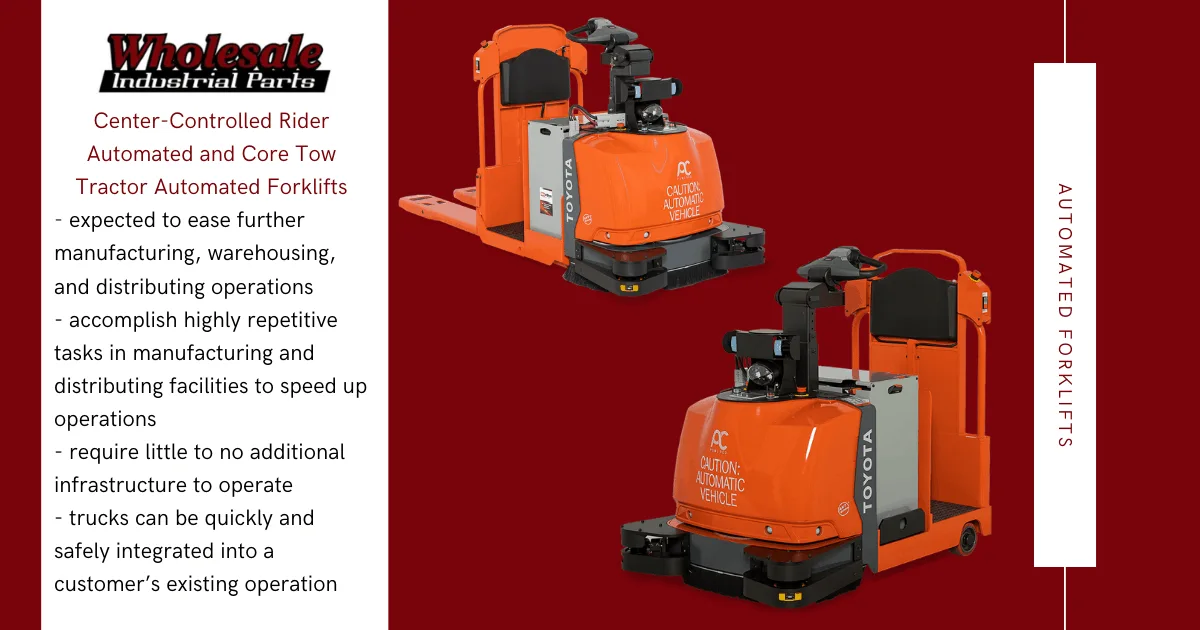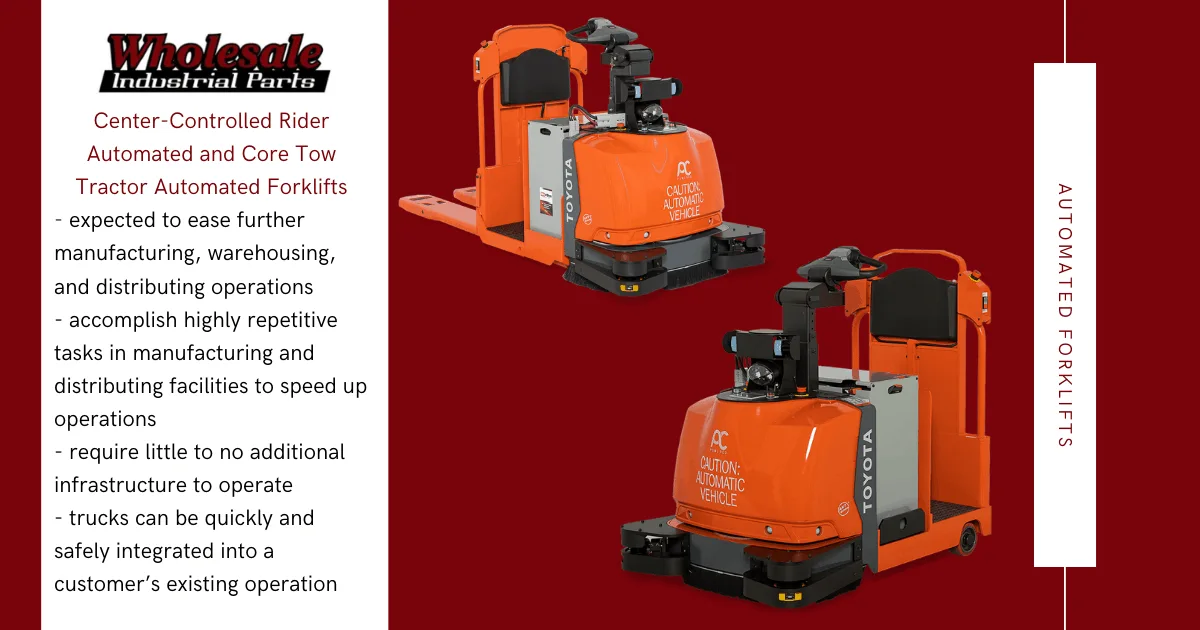 Toyota revealed its new Center-Controlled Rider Automated and Core Tow Tractor Automated Forklifts. The units are expected to ease further manufacturing, warehousing, and distributing operations.
Toyota Material Handling, the leader in material handling technology and innovation in North America, sets a higher standard for forklift automation. Last November 2020, the company announced its two new automated guided vehicles (AGVs) that add to its already vast collection of proven and trusted automation technology.
Toyota developed autonomous vehicles together with its Advanced Logistics Company, Bastian Solutions. They engineered the machines to accomplish highly repetitive tasks in manufacturing and distributing facilities to speed up operations. They believe that their new Center-Controlled Rider Automated Forklift and Core Tow Tractor Automated Forklift will revolutionize how their customers resolve their manufacturing, warehousing, and distribution issues.
Bill Finerty, TMH's Senior Vice President of Sales, expressed his confidence in their company's product and reputation. In an interview, he said, "When customers choose to work with Toyota, they gain more than just an automation partner. They get a full-line material handling solutions provider capable of meeting all their material handling challenges." "We're here to help our customers through their entire optimization journey," he added.
According to Toyota, their new forklifts require little to no additional infrastructure to operate. The trucks can be quickly and safely integrated into a customer's existing operation. The company designed both the Core Tow Tractor and Center-Controlled Rider Automated Forklifts to detect mapped structures behind objects. They are powered by Light Detection and Ranging (LIDAR) natural features navigation, meaning that the forklifts' operation will not be interrupted even if there are stray objects on the floor. The forklifts can also be manually operated if needed.
When it comes to performance, the new forklifts are packing. The Core Tow Tractor Automated Forklift has towing capacities of up to 10,000 pounds (approx. 4540 kg). In comparison, the Center-Controlled Rider Automated Forklift has lifting capacities of up to 7,000 pounds (approx. 3180 kg). The trucks are engineered to move with superb accuracy, with accuracy tolerance ranges as little as half an inch, thanks to advanced sensors that feed real-time information to the vehicle to stop or not.
Toyota Material Handling shows the automated guided vehicles' significant role in safely and efficiently transporting materials and products in logistics and manufacturing operations with their new forklifts.
AGVs shine in operations where high volumes of materials need to be moved repetitively. They assist human workers so they wouldn't have to do the taxing task. These vehicles provide a more efficient and reliable option to conventional material transport procedures.
The company claims that utilizing AGVs in highly populated and busy environments significantly reduces the risk for accidents and product damage. AGVs can also increase productivity and turnover, which results in a better financial position for the company. Even though AGVs cost more than traditional forklift trucks, their advantages outweigh the price in a matter of time.
While new technologies are emerging, it is still best to keep your current equipment in prime condition to maximize its value and lifespan. Here at Wholesale Industrial Parts, we commit ourselves to provide only top-notch service and products to our customers. We specialize in all types and models of material handling equipment. With over 75 years of combined knowledge and experience in the forklift parts industry, our team will help you find and get what you need, with the best value for your money in mind. Contact us right now, and we'll give you a free quotation!